You will be able to view the Ice Box between May 1st to May 8th on the Pratt Institute Brooklyn Campus. The Ice Boxes will be stationed in the Rose Garden, along with info about the design and purpose of these little structures. Please see the map for more specifics.
Ice Box Loading
The Ice Boxes will be loaded with a 1/2 ton of ice at 9 AM on Monday, May 1st at Pratt Institute Brooklyn. Watch as the ice is placed within the structures and then sealed in for the next week! While we encourage you to come see this, we will also have a live video stream of this process if you are unable to come.
On Monday, May 8th at 12 PM, the Ice Boxes will be opened to see how much ice has melted. We will weigh the ice and see which is better: Passive House or code standard. Our event will feature guest speakers, presentations by the students, and music. While an RSVP is not necessary, it would be greatly appreciated. To RSVP for free, click here.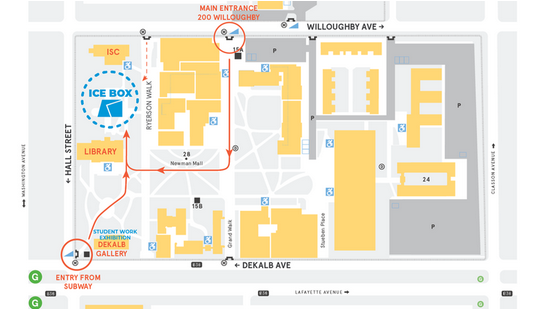 Visit Throughout the Week
The Ice Boxes will be on display all throughout the week of May 1st. Stop by and take a peek through the triple-glazed window at the ice melting (exciting!). Additionally, we will be available for guided explanations for groups or schools between 9 AM and 3 PM during the week days. For our availability, please refer to our scheduling calendar here.