The Ice Boxes have landed at St Enoch Square, Glasgow!
The cladding panels were completed this week. Then all 1684 cladding pieces were laid, ready to be mounted onto the ice boxes. The central structural modules have been assembled and are almost finished. The separate South panels are now under construction, in preparation to be attached on-site. These will be created when each ton of ice is in place ready to be sealed off, airtight. The corrugated aluminium roofing sheet will be attached early next week. 16/07/2021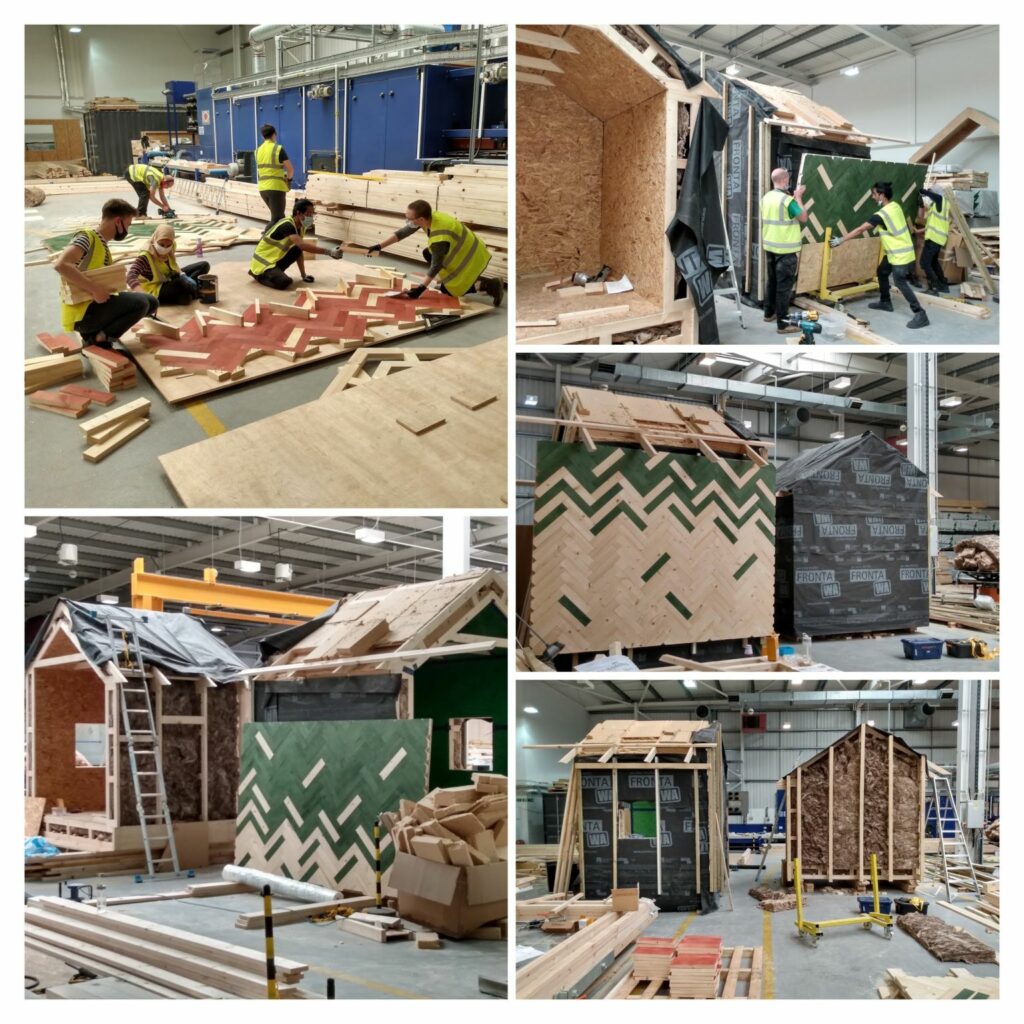 Been working on the Icebox Challenge at Construction Scotland Innovation Centre for two weeks now! It's one thing to stare at AutoCAD/SketchUp all day and think you've detailed your design correctly, and a completely different thing to actually construct it at 1:1! I am really understanding the construction process now and how buildings are put together!

It's been a lot of problem solving and hard work, but thrilling nonetheless! 2 weeks down, 1 more to go! Can't wait to see both boxes at St Enoch's square!

Lina Khairy, member of the winning student design team, 12/07/2021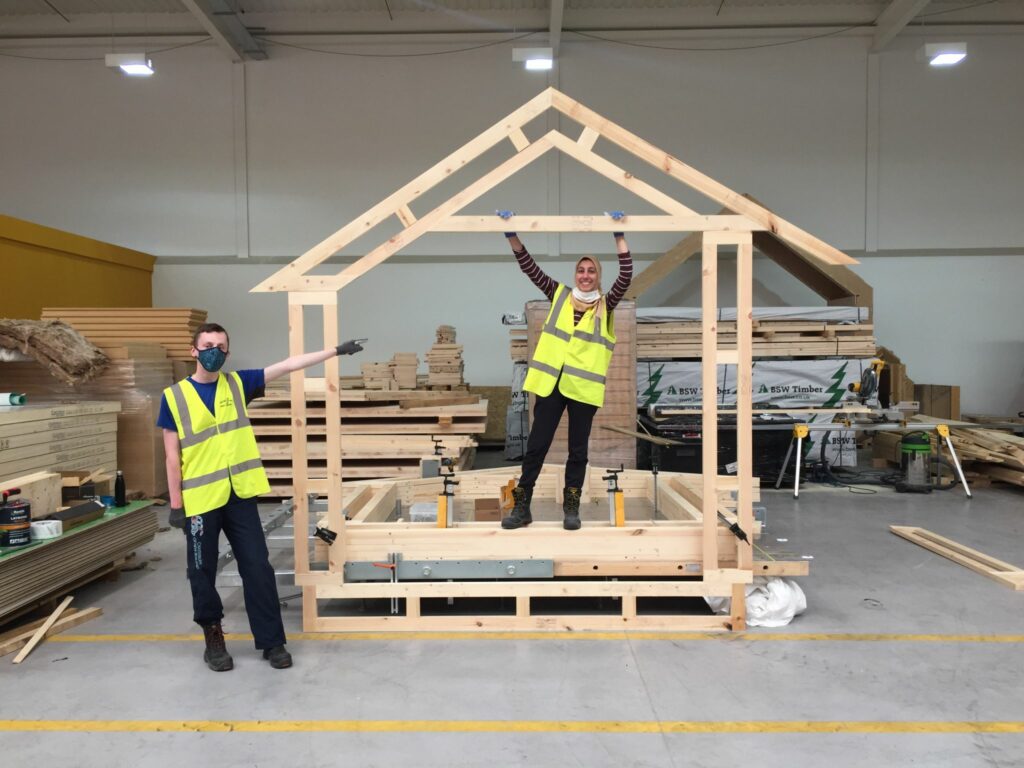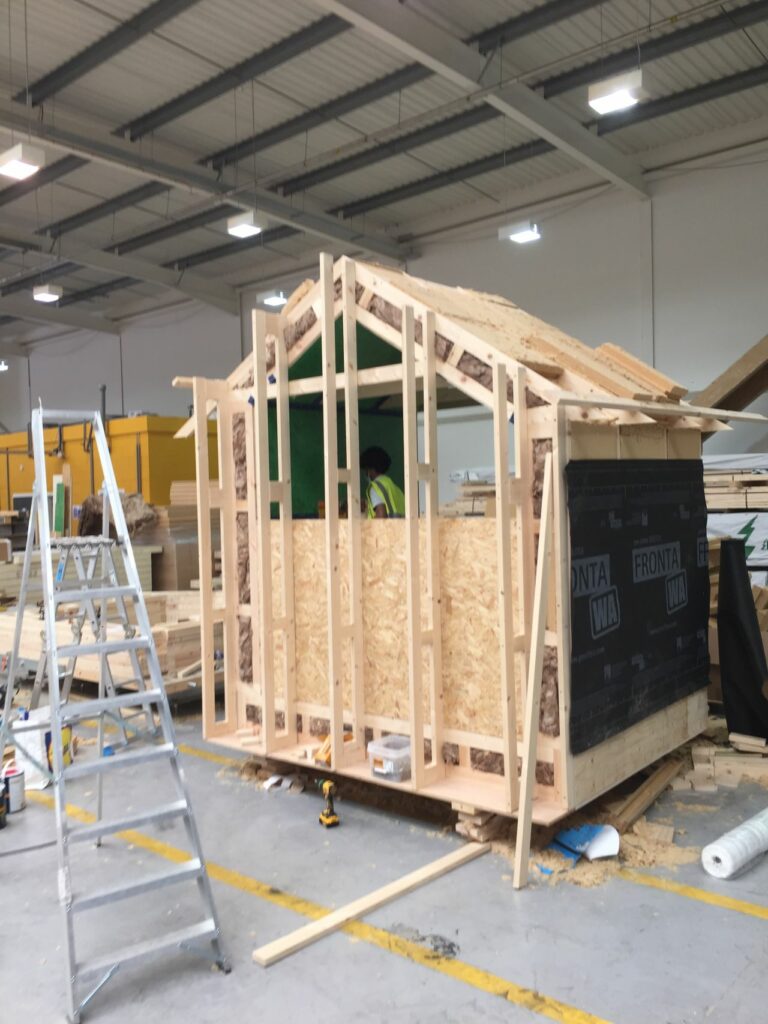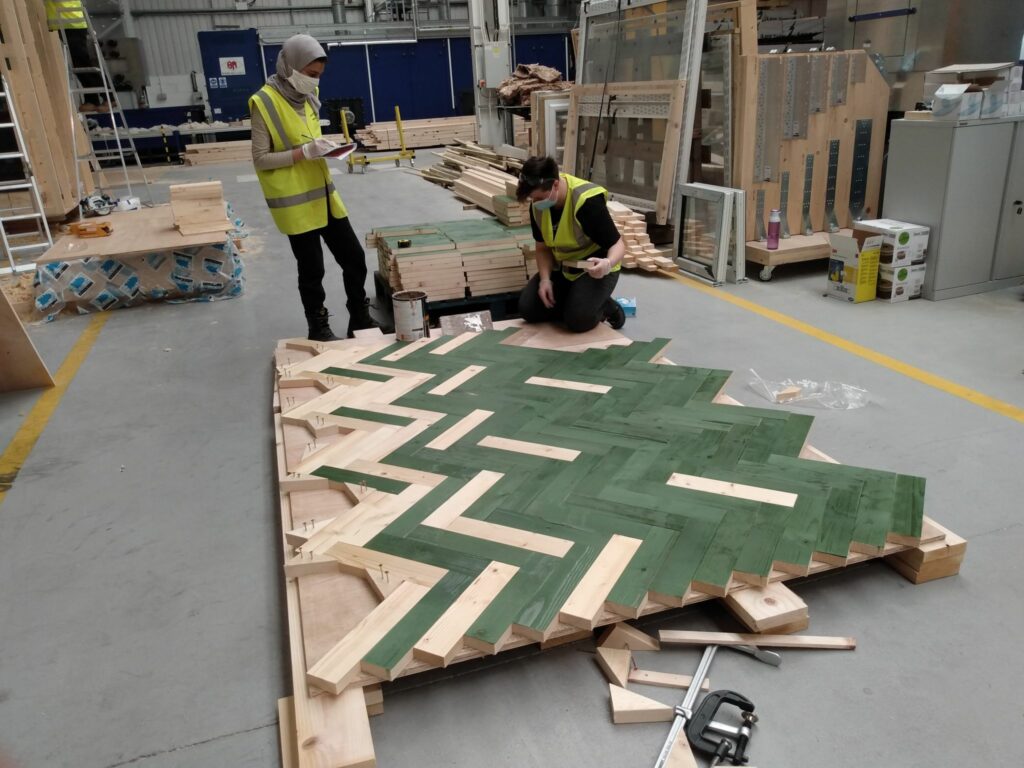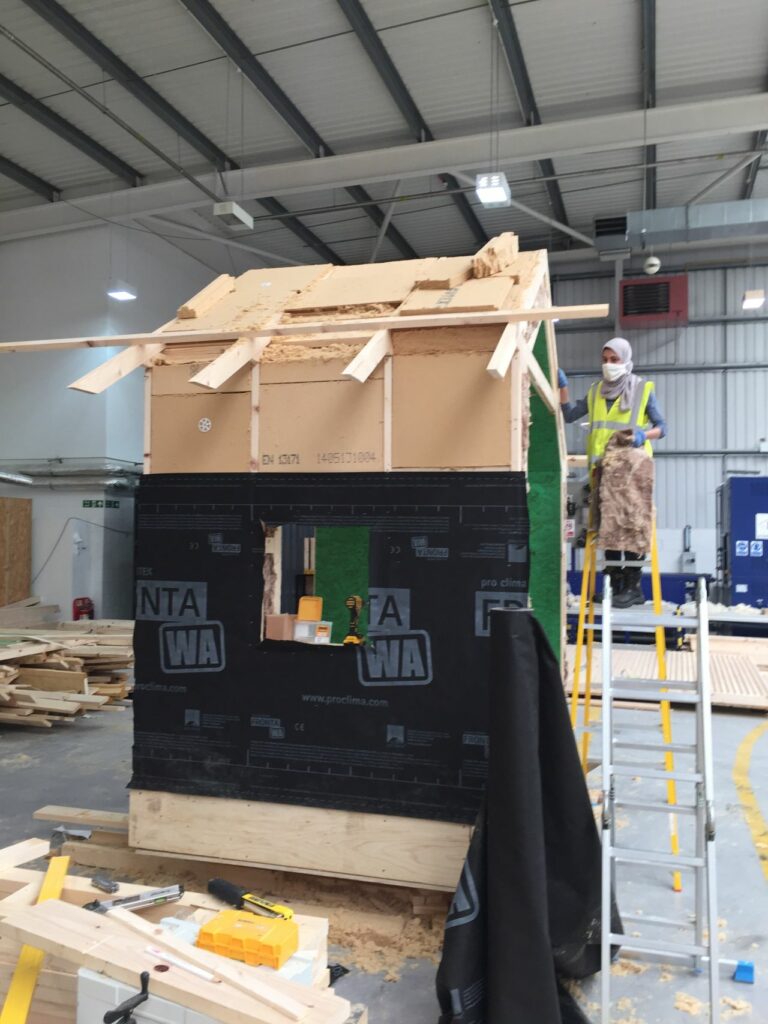 05/07/2021 This week, we saw great progress made with the frames and processing materials for the façade. 2nd week of fabrication at CSIC. The Passive House Standard Ice Box's central structure went up early in the week and has since
received much of the insulation, panels and membranes. Battens being attached to receive cladding panels. The Scottish Code Icebox's central structure went up on Friday and will soon follow suit with insulation and airtightness to the Scottish Building Standard.
Meanwhile, the external cladding bones were this week treated and stained, all 1700 of them, in preparation for panellization. 2/8 external panels were assembled by the week's end.
It is fascinating (and hard work!) taking a design from paper to practice!

Kyle Henderson, member of the winning student design team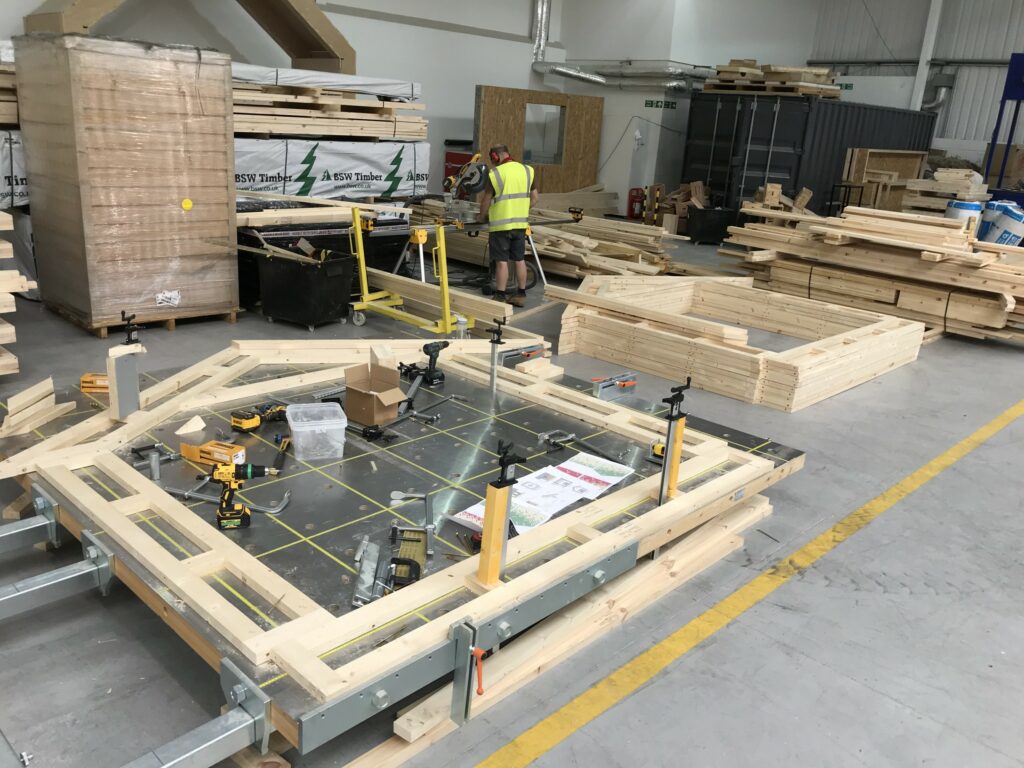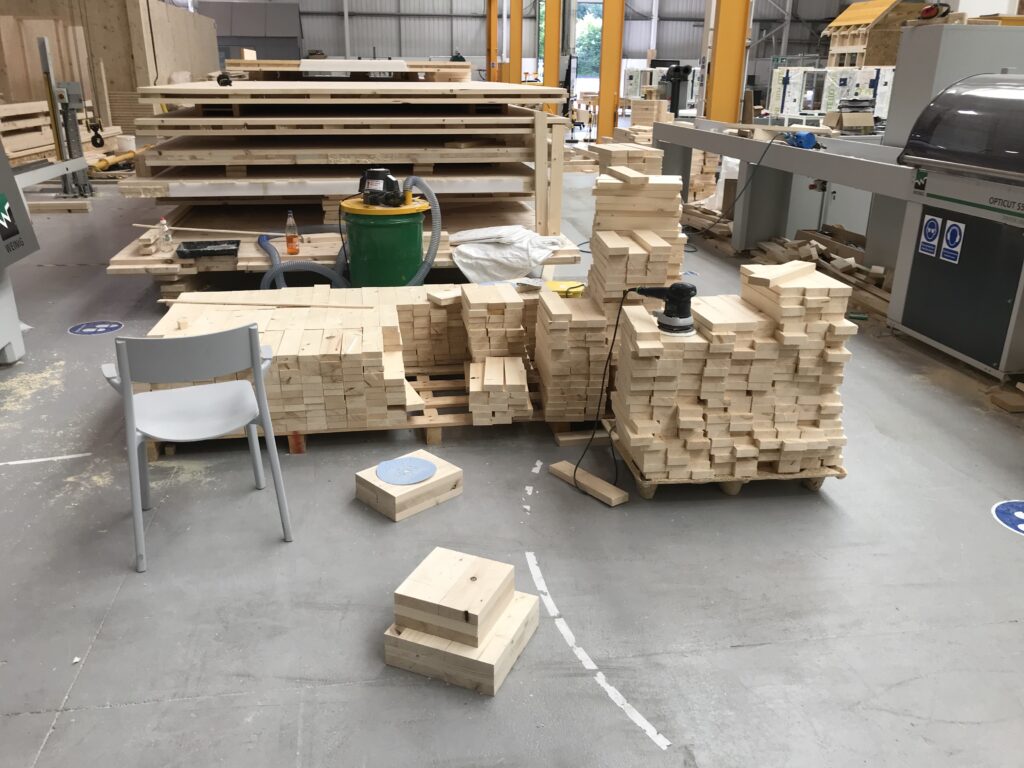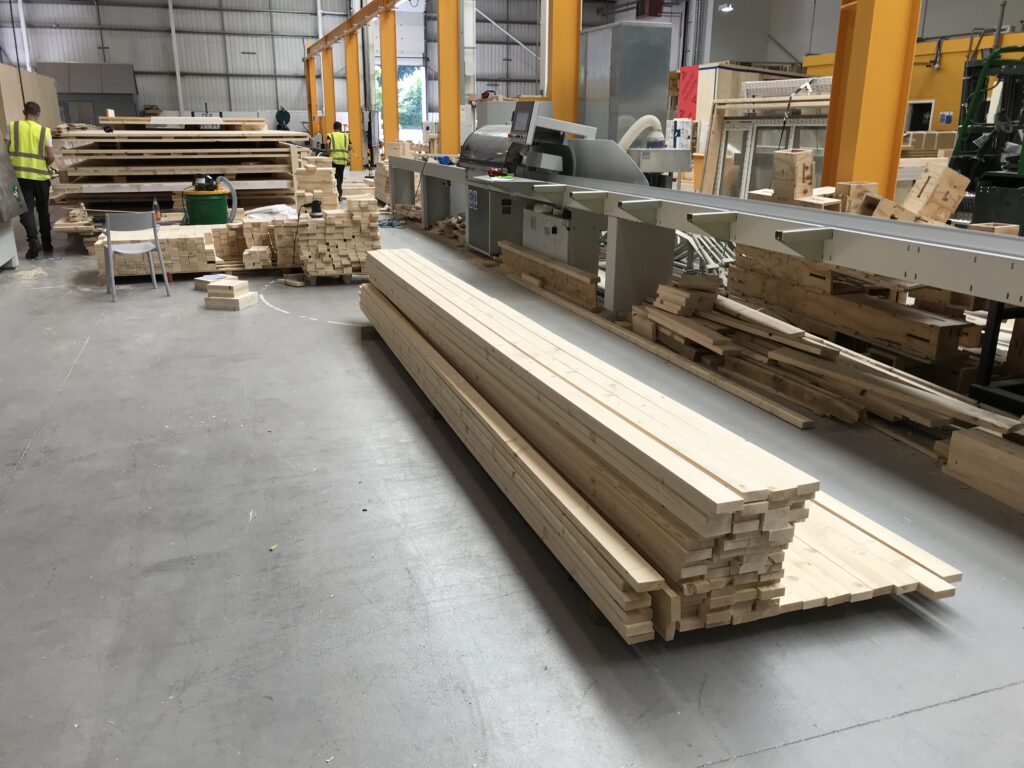 The first week of off-site manufacturing at CSIC, saw the student design team prototyping the structural truss system, whilst planning the home-grown Scottish timber for both structure and for the external cladding designs. 14 structural trusses were required for both ice boxes, which kept the team busy until Friday. 160 lamellae were sawed, marked, hand sanded and stacked to produce 1900+ pieces for the herringbone cladding design.
Last week was our first visit to the Construction Scotland Innovation Centre to build the The Icebox Challenge boxes! We had a fascinating tour of the place by Sam Patterson and sampled some stains for our timber facades! Such an amazing experience to get to build these boxes and gain insight into the construction process! This is honestly a dream come true!

Lina Khairy, member of the winning design team, 28/06/2021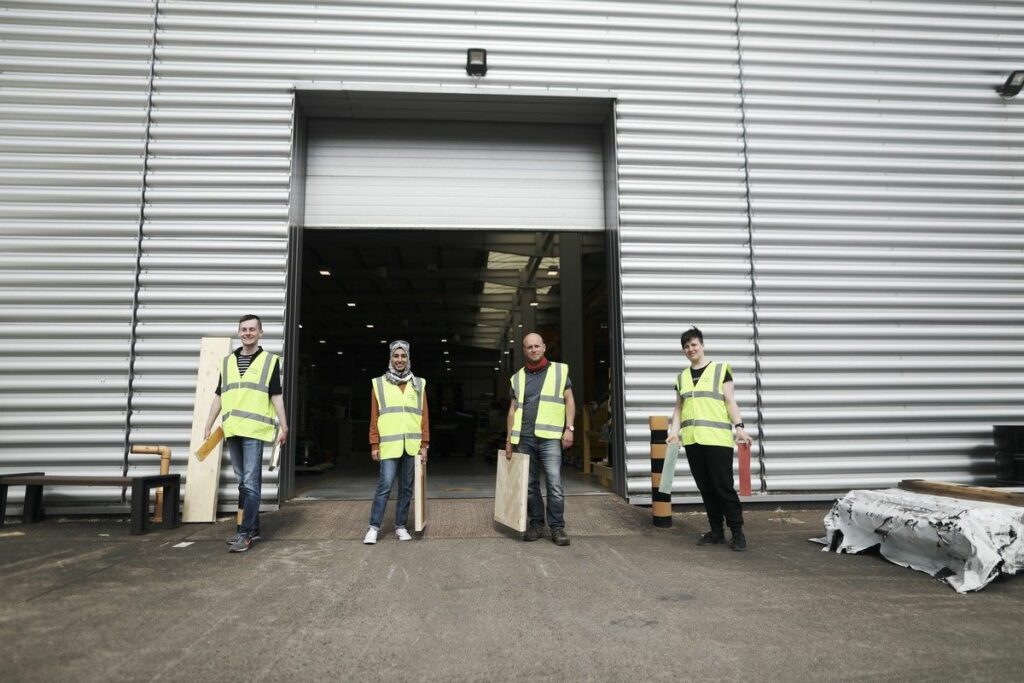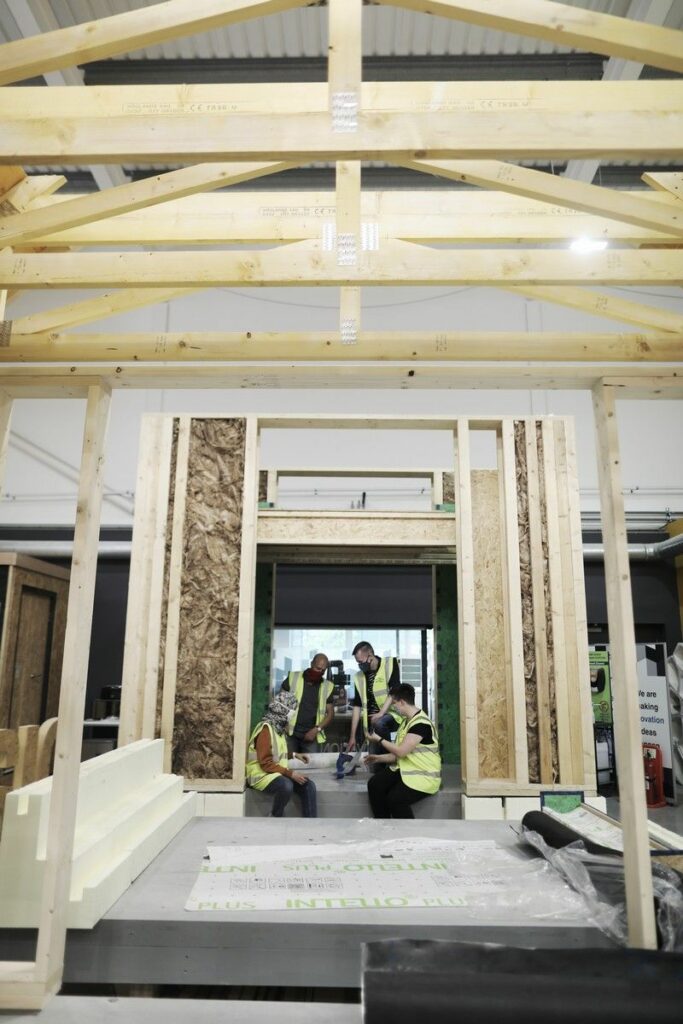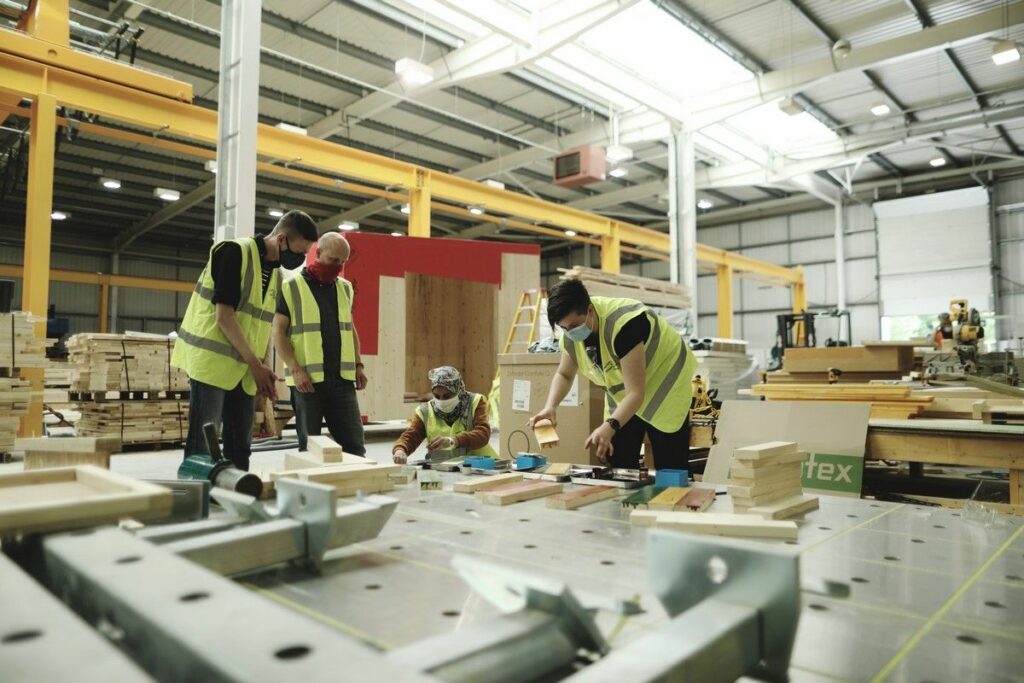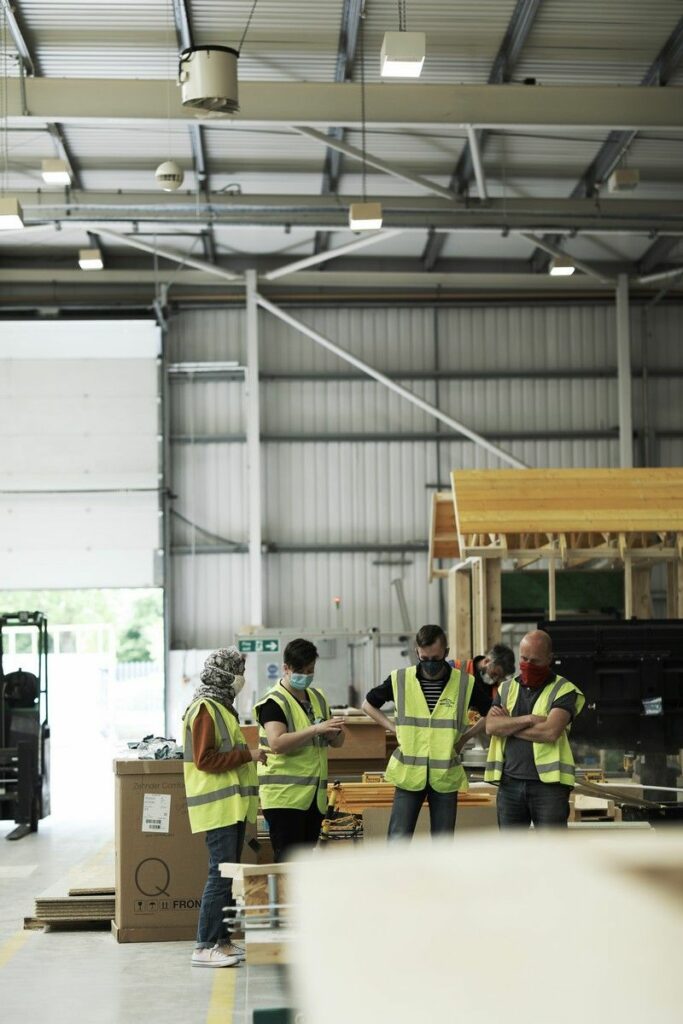 Press Release: Robert Gordon University students win national architecture competition to mark the UN COP26 Climate Summit
Architecture students from Robert Gordon University are celebrating winning a national competition for highly energy efficient buildings that will feature at the 2021 UN Climate Change Conference in Glasgow later this year.
Four students from Robert Gordon University's Scott Sutherland School of Architecture and Built Environment have won the prestigious 'Icebox Challenge Glasgow' award, after designing a vibrant energy efficient building.
The 'Icebox Challenge Glasgow' is a competition open to students from across Scotland who were challenged with creating a building that was both innovative and eye-catching. The competition asked students to design one structure built to Scottish Building Standards and another built to a more environmentally friendly, 'Passive House' standard. How much ice remains will demonstrate how well each icebox keeps out the heat and the difference between the Scottish Building Standards and the Passive House Standard.
The team of architecture students from Robert Gordon University's Scott Sutherland School created a winning design celebrating a traditional highland building using timber, herringbone cladding, stained red, green and yellow, that was inspired by the natural colours of the highlands.   They also took inspiration from the Integra House designed by RGU Professor Gokay Deveci.
Each of the two structures designed by the RGU Architecture students will be built by the students at the Construction Scotland Innovation Centre in Glasgow before being put on public display in St.Enoch's Square Glasgow from 19 July to 8 August. This will run ahead of the UN Climate Change Conference, COP26.
The structures will be left outside for three weeks, each holding an equal amount of ice. When opened, the amount of ice left in each box will be measured. How much ice remains will demonstrate how well each ice box keeps out the heat.
One of the winners, mature architecture student, Matthew Clubb, from Aberdeenshire said; "I am absolutely thrilled that students at RGU have won the 'Icebox Challenge Glasgow'.   We have worked hard as a team to create a building that is vibrant aesthetically and embraces passive design and prefabrication.
"We drew inspiration from the Scottish Highlands and incorporated design features and materials that would minimise our building's embodied carbon.   It is fantastic that our designs will be showcased and built at a public installation in Glasgow city centre ahead of the UN Climate Change Conference."
Head of The Scott Sutherland School of Architecture & Built Environment, Professor David McClean said: "We are delighted that a group of architect students from Robert Gordon University has won this exciting national competition and will gain international exposure. The climate imperative occupies an increasingly central position in the education of architects, and in practice itself, and it is wonderful to see students motivated to engage creatively in this way and of their own volition.
"In the face of advancing climate change, the design of energy efficient buildings is now more important than ever. Building substantially on our research expertise, the School is constantly reinforcing the development of knowledge and skills in sustainable practices across the breadth of its curricula. I am delighted that the judges of the Icebox Challenge Glasgow, have recognised our talent and that our students' work will be showcased to a global audience ahead of the UN Climate Change summit in Glasgow."
The Passivhaus Trust said: "Better building design can help us reduce our carbon pollution without changing our behaviour. Buildings that prioritise efficiency first are comfortable and healthy.   The Icebox Challenge is an exciting competition and the entry from winning architects from Robert Gordon's University entered demonstrated really strong building design that shows we can reduce our carbon pollution whilst still living in a comfortable and aesthetically pleasing home."
The winning group of students from Robert Gordon's University included mature student Matt Clubb,  Lina Khairy, aged 23, Alina Vinogradova aged 28 and Kyle Henderson, aged 23.
In addition to gaining international exposure thanks to the run-up to COP26 and involvement from the International Passive House Association, the winning group will be awarded £1000 from the Glasgow Institute of Architects (GIA) after the fabrication and public display stages.
The 'Icebox Challenge Glasgow' is run by the International Passive House Association and The Passivhaus Trust, who are a global network of architects, planners, scientists, and contractors in partnership with Edinburgh Napier University.  The group strives to promote Building Passive which means building better! The aim of the competition is to create an energy efficient building that was judged on design, cost-effectiveness, innovation, energy supply, and sustainability.